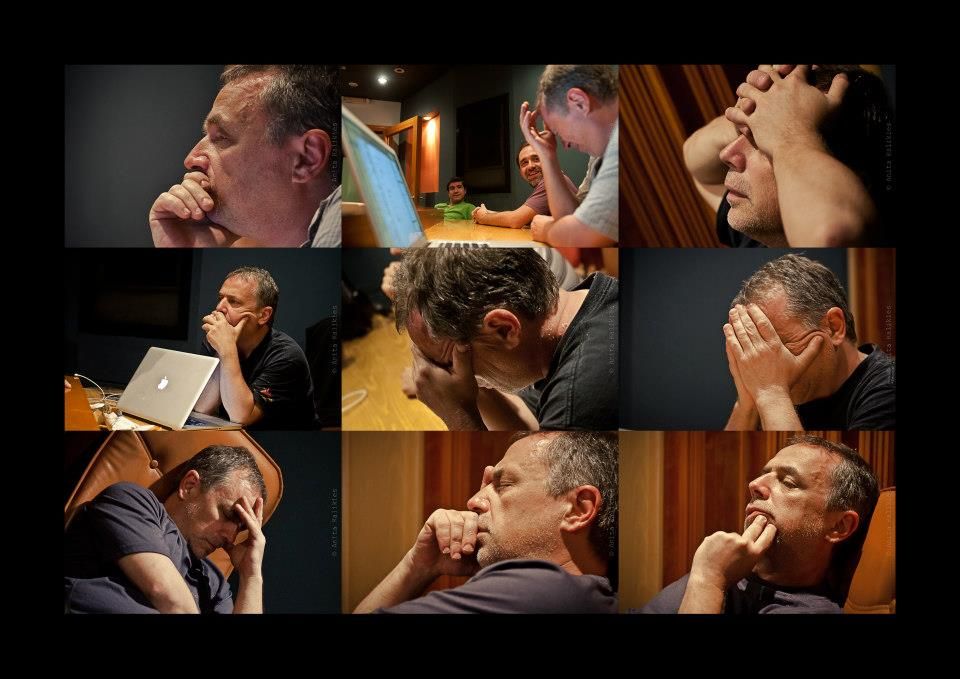 PABLO ASLAN, Producer, President
Argentine-born musician and producer Pablo Aslan is recognized internationally as one of the leading figures in contemporary tango. He performs as leader of his own ensembles, Avantango and Mash-ish, and with a variety of artists and ensembles. In 2016 Aslan founded Avantango Records in an effort to contribute new music and new opportunities for tango musicians. The label has already garnered two Latin Grammys.
As an artist, Aslan's latest CD release, Contrabajo (2018) features him as a bass soloist accompanied by a string quartet in an eclectic and personal mix of Latin American music. His discography includes Piazzolla in Brooklyn (2011), and Tango Grill (2009). The latter earned him nominations for a Latin Grammy and a Grammy awards.
Jazziz magazine proclaimed "We're in a golden age of jazz-tango fusion, and bassist Pablo Aslan is one of the main reasons. His pulsing lines are the heartbeat of a new music."
As a producer, he has worked in more than two dozen albums, including the 2007 Latin Grammy Winner Te Amo Tango by Uruguayan bandoneonist Raul Jaurena. Jaurena and Aslan forged a musical partnership in 1990 and performed and recorded on several CD and stages around the world including the Tango Summits in Granada (Spain) and Montevideo (Uruguay).
Aslan's Tango Jazz ensemble Avantango has performed at a variety of stages, including The Knitting Factory, Town Hall, and the Buenos Aires International Jazz Festival.
In the last few years, Aslan worked on albums with Frank London's Glass House Orchestra, pianist Brian Marsella, and composer Emilio Solla's Tango Jazz Orchestra. He was Music Director of Paquito D'Rivera's Tango Jazz Ensemble, recording a CD and performing in the US and Europe. He performs regularly in the Tango and Jazz Festivals in his native Buenos Aires.
 In 2016, he founded Avantango Records, a label dedicated to tango music that received its first Latin Grammy award for Emilio Solla and The Tango Jazz Orchestra's "Puertos" in 2019. In 2021 the label received a Latin Grammy for Best Tango Album for "Tinto Tango Plays Piazzolla" by the Los Angeles based quintet Tinto Tango led by bandoneonist Mariano Dugatkin.
Aslan has worked with many world-class artists, including Yo-Yo Ma, Shakira, Lalo Schifrin, Denyce Graves, Arturo O'Farrill, Paquito D'Rivera, Osvaldo Golijov, Pablo Ziegler, David Krakauer, the New World Symphony, and the Philadelphia Orchestra.
He is an active researcher and educator, and has produced programs for Lincoln Center Institute, Carnegie Hall, and Arts Connection. He has spoken at several universities throughout the United States, including Harvard, Yale, and UCLA and was Artist-in-Residence at Emory University. He served as Artistic Director of the Reed Tango Music Institute and was Featured Artist at the Indiana University Tangueros Conference.
____________________________________________________
"You may read about merging jazz with tango, or jazzing up tango, but the real goal here is to push tango to unimagined extremes." TOM HULL (Village Voice)
"The bassist is a towering figure in the world of modern tango " RAUL D'GAMA SOUZA, latinjazznet.com
"We're in a golden age of jazz-tango fusion, and bassist Pablo Aslan is one of the main reasons. (…) His pulsing lines are the heartbeat of a new music." JAZZIZ
**** DOWNBEAT
"Pablo will continue to define the tango idiom in his musically inimitable way…Pablo Aslan..The right man….In the right way…At the right time for tango jazz." EJAZZNEWS
"Bassist Pablo Aslan has long been in the forefront of forging an alliance between jazz and the tango. His approach has been artful, keeping the body of the tango intact while letting jazz take the music into new pastures." JERRY D'SOUZA – ALL ABOUT JAZZ
"The late, great Nuevo Tango master Astor Piazzolla sidled up to the jazz aesthetic in his way, and bassist Pablo Aslan continues to carry the jazz-tango torch, as heard on this beautiful new recording." JOSEF WOODARD – JAZZ TIMES
"The themes are clearly defined, while each improvised adventure comes complete with thrills and beauty. Recommended, Aslan's Jazz/Tango project works wonders on the soul." CADENCE
"Bassist Pablo Aslan has pulled it off here on this spirited recording that retains all of the charm and intrigue of Argentina with the collective spontaneity of American freedom." ALLMUSIC.COM
"From the level of play to the artistic conception, there is nothing "standard" about this work and that is both its strength and beauty." JAZZTIMES
"Though you might not think of tango as "improvised", it is very much so on this splendid album and will surely be a delight to those among us who want to hear music that's created on the fly. It takes real talent and vision to do this, especially with a musical form as recognized as is tango." DICK METCALF
"Aslan creates improvisatory alchemy with artists at home in both genres. Tango as Miles, Coltrane, Evans and Chambers might have conceived it." GLOBAL RHYTHM